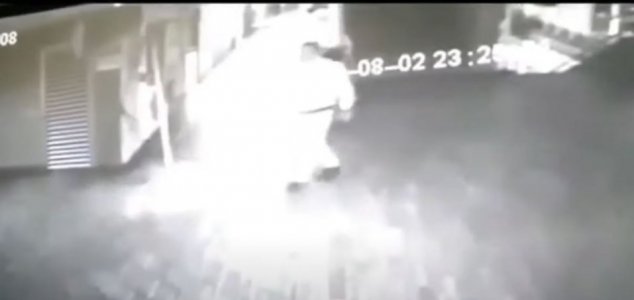 Something definitely befell the guard, but what was it ?

Image Credit: Jose Manuel Rios Morales
A Colombian mayor has posted up a video featuring bizarre footage of an alleged paranormal attack.
In a clip posted up on his Facebook page, Jose Manuel Rios Morales, who is the mayor of Armenia, shared footage of a security guard who was allegedly attacked by an invisible entity.
Sure enough, the grainy black-and-white clip does appear to show something strange going on.
In the video, the guard can be seen suddenly throwing himself against a wall before falling to the ground and crawling backwards, all while seemingly being harangued by an unseen assailant.
Apparantly convinced of the supernatural nature of the guard's ordeal, Morales has since called for a little bit of divine intervention to help remove any malicious forces from the area.
"I want to give everyone a little peace of mind and let them know that, in the company of the Bishop and other religious leaders, we will bring God's blessing to every corner of this workplace," he said.
"We ask for respect and a union in prayer, and we assure you that nothing can steal our peace and tranquillity because we are protected by the hand of our Lord."
But was the guard actually being attacked by a ghost or is there another explanation ?
You can check out the clip for yourself below.
Source: New York Post | Comments (24)
Similar stories based on this topic:
Tags: Ghost