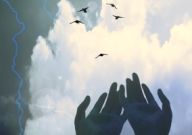 A medium brings a life-altering message
Posted on Saturday, 7 December, 2013 |

2 comments
Columnist:

Kathleen Meadows
One beautiful summer day, I headed off to spend a weekend at the spiritualist community of the Lilydale Assembly with three of my graduated, advanced Tarot students. This was a five hour drive from our home in Kitchener, Ontario, Canada. Paul Ottmann volunteered to be our guide having visited Lilydale many times before. All along our journey he regaled us with titillating personal stories and anecdotes from his earlier trips. Intriguing, delicious, old fashioned ghost stories for hours. What a perfect way to journey to this spiritualist community.
We would only be spending two nights which meant we would have to hussle to get as much in as possible. Lilydale features general assemblies, mediums giving messages in their various outside temples, museum, library, and many practicing mediums with whom you can arrange to have a reading. I was definitely on for one of those. I had both parents now in the spirit world along with grandparents and aunts so there was plenty of options for the medium to be open to.
Lilydale Assembly is a community that was formed in the days when Spiritualism was a burgeoning faith, growing exponentially between 1840 and 1940. Mediums and their followers would go to Lilydale to camp and meet with their mediums and others of like mind. It is one of the few venues left in North America where this activity continues to thrive.
We arrived just in time to catch a large General Assembly beginning. There were possibly 200 people in the room and the energy was magical. People were hugging each other with joy after not having seen each other for at least a year, the music was uplifting and I felt this odd sense otherworldliness. As if I was transported to a different dimension, a different time zone rather dreamlike and beautiful.
On Sunday morning, our final day at Lilydale, two of us decided we would have to have a session with a medium. I highly recommend that if you're planning to visit Lilydale, you do some research beforehand and book an appointment with a medium. They get booked up fast especially during the summer months and we were just fortunate to find one that had some time available to see us that Sunday. My chosen medium worked out of his small home in Lilydale and invited clients to sit with him in his front, cozy living room. He asked me if there was someone in the spirit world I especially wanted him to contact.
I answered, "No. There are so many now that have passed on, whomever wants to come and say hello is fine with me." I was curious to see who would! I assumed it would be my mother since we had been close. My mother and I had in fact gone to the Spiritualist Church and group meetings together in Kitchener years before. But then my paternal grandfather had attended the Spiritualist church in Toronto as well many years earlier and brought his son (my father) with him on a number of occasions.
He launched right in about someone who had come in the door right along with me. This person had had knee problems and was pernickety about setting a table. I burst out laughing knowing immediately who that was and what a surprise! It was my father. Now he had been a fan of spiritualism having gone to a Spiritualist meeting in Toronto and been given a message that changed his life. He told me my life would be going through enormous changes based upon messages I would be getting from a Spirit Guide. I honestly thought much of what the medium conveyed was rather formulaic rather than personal. I left intrigued but hardly mind altered.
Over the coming year indeed my life changed drastically. Just like my father had messaged, it was connected to a woman in the spirit world whose spiritual guidance book I had purchased at the bookstore at Lilydale right after leaving the mediumís home reading parlour! I met an extraordinary astrologer, changed my business practice and eventually moved to a place Iíve wanted to live for many years. All these changes could be attributed to the spiritual shifts in my life immediately following this visit to the medium. Donít pass up an opportunity to have a message brought through a medium, it could very well change your life in exciting and spiritually enhancing ways.
Kathleen Meadows, M.A.
http://www.tarotbykathleen.com
Article Copyright© Kathleen Meadows - reproduced with permission.
---
If you are interested in the esoteric sciences and psychic ability development you will find the articles on my web site an interesting read. Visit my web site Exploring the Psychic Experience.