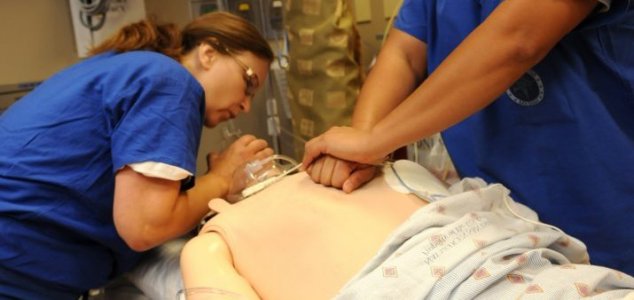 A CPR training exercise.

Image Credit: Anastasia Puscian / US Navy
An Ohio man who was pronounced dead suddenly came back to life after his son called out to him.
37-year-old Anthony Yahle was rushed to hospital after his wife, who was a nurse, found him unconscious at their home and couldn't wake him up. Cardiologists examining him couldn't find any arterial blockage and believed his prognosis was good, but then without warning he suffered a complete cardiac arrest and despite working on him for 45 minutes doctors were unable to save him.
When his family who were waiting to hear news in a room nearby were informed of his passing, Anthony's teenage son Lawrence jumped up, charged through to where his father lay and said to him "Dad, you're not going to die today."
Incredibly, doctors noticed that a short time later Anthony's heart had started beating again. He went on to make a full recovery and suffered no ill effects, something that is itself unusual for someone who had been technically dead for such a long period of time.
This is the second such case to hit the headlines in recent weeks, earlier this month
Venessa Tenasio
from Melbourne was reported to have been declared clinically dead for 41 minutes before being revived by doctors.
Source: Fox News | Comments (14)
Tags: Dead, Revive