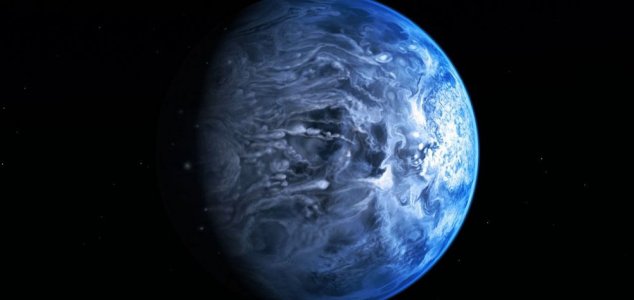 Gliese 1214b's atmosphere is remarkably familiar.

Image Credit: NASA, ESA, M. Kornmesser
Japanese scientists have identified an extrasolar planet that could be a prime candidate for life.
The planet Gliese 1214b is approximately 40 light years away and is located in the Ophiuchus constellation. Larger than our own planet but smaller than a gas giant, this distant world is around 2.7 times the size of the Earth, placing it in the category of planets referred to as "super-Earths".
Scientists in Japan were eager to learn more about this classification of planet and set out to determine the atmospheric composition of Gliese 1214b so that they could compare it to that of our own planet. To do this they used the Subaru Telescope to look for Rayleigh scattering, observable patterns that form when light is scattered by particles smaller than the wavelength of the light they are traveling through.
What they found was that Gliese 1214b has a water-rich atmosphere and would appear blue like the Earth to anyone observing it. While this doesn't confirm that the planet would be capable of supporting life it does suggest the possibility that super-Earth worlds such as this could be habitable.
Source: CBS News | Comments (11)
Tags: Extrasolar Planet