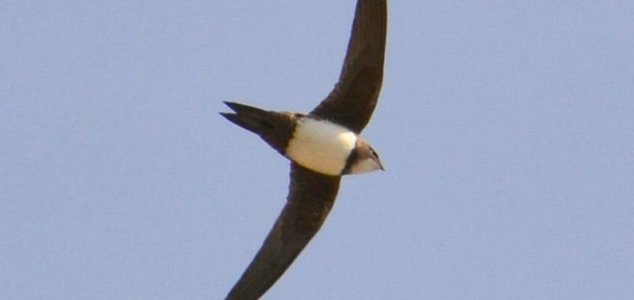 Alpine Swifts can stay aloft for months at a time.

Image Credit: CC BY-SA 2.0 Birdwatching Barcelona
Researchers have discovered that some birds can maintain continuous flight for over six months.
A team of scientists at the Swiss Ornithological Institute conducted an experiment to learn more about the migratory behavior of the alpine swift, a small bird that is known to spend the summer breeding in Europe before flying thousands of miles to Africa for the winter.
To obtain this data the team attached tiny electronic tags to six birds which recorded information about what the bird was doing every four minutes. A year later the researchers retrieved the tags from the birds and then analyzed the data in a computer to build up an overall picture.
"We wanted to learn about energy demands during migration," said research team member Felix Lietchi. "We expected to see how often they fly, how often they stop, that sort of thing." Upon analyzing the results however the researchers found something highly unexpected.
"During their non-breeding period in Africa, they were always in the air," said Lietchi. "They stayed in the air for all time they spent south of the Sahara, day and night. Sometimes they just glide for a few minutes, so there's no movement, but the pitch of the body indicates that they're still gliding in the air."
It had long been suspected that these birds could fly for long periods, but to stay in the air for six months at a time was a feat far in excess of what anyone had been anticipating.
Source: Smithsonian | Comments (14)
Tags: Bird, Swift