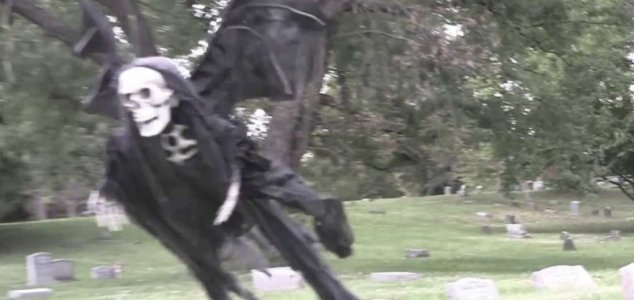 What would you do if you saw this flying towards you ?

Image Credit: YouTube / Tom Mabe
Prankster Tom Mabe sent joggers running for their lives with his latest Halloween-themed contraption.
You'd be forgiven for being more than a little concerned at the sight of the grim reaper wailing and flying towards you, but that's exactly what happened to several passers-by at an otherwise ideallic park in Louisville, Kentucky.
Taking advantage of the Halloween season as a chance to engage in some paranormal-themed japery, serial prankster Tom Mabe dressed up a remote control helicopter like the grim reaper and filmed people's reactions as he chased them around with it.
"We have had a lot of fun making this," he said. "Itís taken some work to make it happen, but itís great fun. It flies with the help of a remote control helicopter but you rig it up in a really brilliant way. It has to be quiet so people donít hear it."
A video of the prank shows joggers and other park visitors fleeing in horror as the contraption flies after them while emitting a wailing noise. "The best bit is when you sneak up on people. We fly it about 200ft in the air and then drop it down so itís right behind them," Mabe added.
Source: Metro | Comments (31)
Tags: Tom Mabe, Halloween