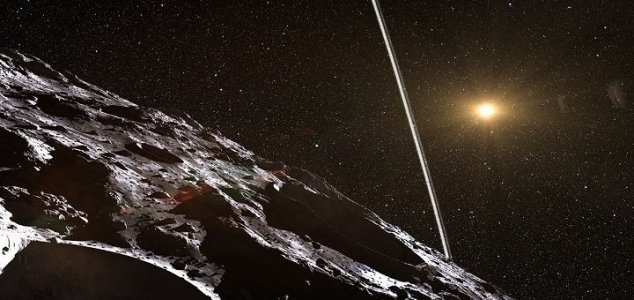 An artist's impression of the rings.

Image Credit: ESO/L. Calcada/Nick Risinger
A 250km-wide rock known as Chariklo is the smallest known object to feature a ring system.
Up until now rings were thought to be exclusive to larger bodies such as the gas giant planets Saturn and Uranus, but astronomers working from telescopes in South America have this week announced the discovery of a tiny asteroid with what appear to be two distinct rings.
"Our best guess for the origin of the rings is that there was a collision on Chariklo and that this collision injected a disc of material around the body," said astronomer Bruno Sicardy.
The two rings measure 7km and 3km in width with a 9km gap between them. While the asteroid's current path places it just beyond the orbit of Saturn it is believed that it would have originally formed in the outer solar system.
Astronomers were able to see the rings by observing the asteroid as it passed in front of a distant star.
Source: BBC News | Comments (20)
Tags: Chariklo, Rings