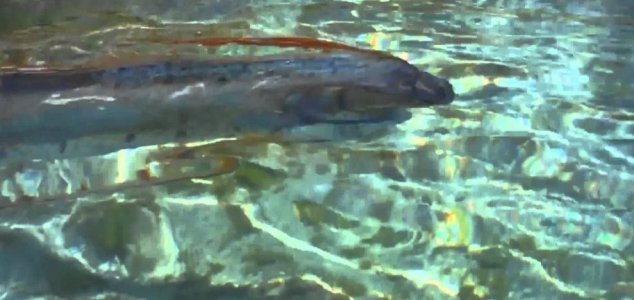 Tourists looked on in amazement.

Image Credit: YouTube / Shedd Aquarium
One of the world's most mysterious and elusive fish has been filmed in the coastal waters of Baja.
Oarfish can grow up to several dozen feet in length and are usually found deep down in the ocean's depths. Encounters with the animals are very rare and usually involve dead specimens being found washed up on beaches.
One of the most well known recent finds took place off the coast of California's Catalina Island where an 18ft oarfish was found dead by a snorkeler. Another, measuring 14ft, was found a few days later in San Diego.
Now a group of tourists has managed to film two of the creatures very much alive in the waters off the coast of Mexico. It isn't clear what the fish were doing in such shallow waters.
Some believe that the appearance of an oarfish heralds an impending earthquake.
"Deep-sea fish living near the sea bottom are more sensitive to the movements of active faults than those near the surface of the sea," said earthquake prediction expert Kiyoshi Wadatsumi.
Source: Discovery News | Comments (14)
Tags: Oarfish, Mexico