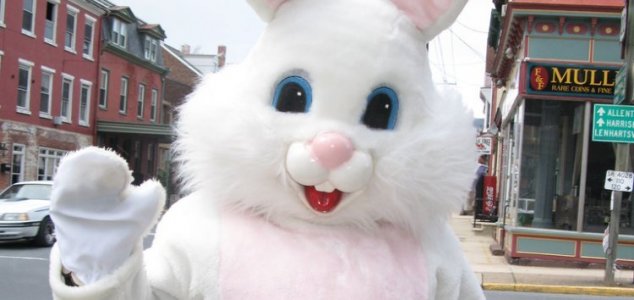 Where did the Easter Bunny come from ?

Image Credit: CC BY-SA 2.0 Jack
If Easter is all about celebrating the resurrection of Christ then where does the Easter Bunny fit in ?
Easter eggs, yellow chicks and the Easter Bunny are things that these days we might take for granted, yet looking back at the Biblical events on which Easter is based there is no indication of where some of these concepts actually came from.
Easter, as it turns out, borrows elements from several different traditions. In addition to the celebration of Jesus rising from the dead there are numerous references to other religions, beliefs and festivities.
The Easter Bunny for example is believed to originate with the Teutonic deity Eostra who was a goddess of spring and fertility represented by a rabbit. Eggs were also originally considered to be a sign of fertility in addition to the traditional association with Jesus' resurrection.
More contemporary stories of the Easter bunny and the laying of eggs however are thought to have first appeared in the 16th and 17th centuries with the tradition of making nests, the decoration of eggs and the giving of candies following on soon afterwards.
Source: Discovery News | Comments (75)
Tags: Easter