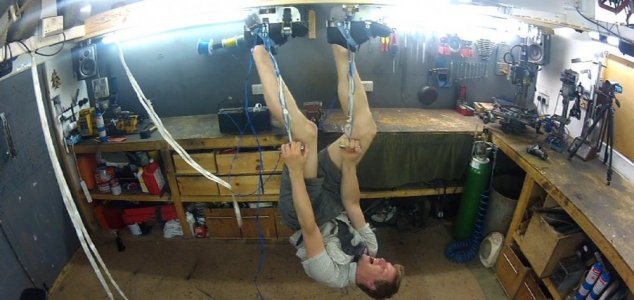 Furze uses string to help him lift the shoes off the ceiling for each footstep.

Image Credit: YouTube / Colin Furze
Eccentric inventor Colin Furze has successfully built Magneto-inspired shoes that stick to the ceiling.
A long-time fan of the X-Men comics and in particular the metal-manipulating villain Magneto, Furze decided to build a pair of shoes that would allow him to walk on any surface using nothing but the power of magnets.
It took the 34-year-old just one week to put together the unusual footwear using parts scavenged from a microwave oven. The shoes feature an electromagnet based on the microwave's transformer and are powered using a car battery.
"The shoes are great fun but it is rather bizarre trying to walk upside down, you have to really force your feet on to the ceiling," he said. "It's rather nerve-racking because if the electricity fails the magnets won't work and I will fall."
While the invention is undeniably cool, it might be some time before the idea catches on.
"I think the shoes could be useful for beating the queues at a railway station by walking over the top of everyone's heads or running along the side of buildings in busy shopping streets," said Furze.
Comments (17)
Tags: X-Men, Magneto