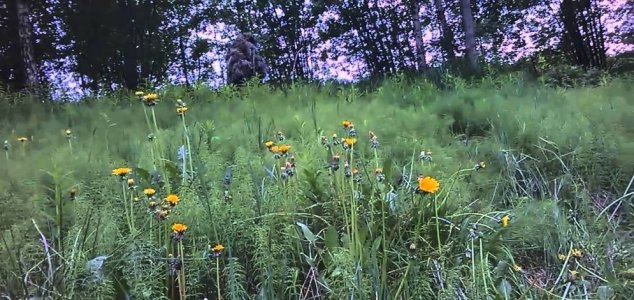 The dark-haired creature can be seen standing up and walking away.

Image Credit: YouTube / MicroRT55
A somewhat unconvincing video of an alleged hominid ape creature in Norway has appeared on YouTube.
The video, which was uploaded by user "MicroRT55", has been met with a significant degree of skepticism since first appearing online.
The footage begins with a view over a meadow of tall grass and flowers when a large hairy bipedal creature suddenly stands up in the background. Without even looking towards the cameraman, the figure then turns and walks off slowly towards the right until it disappears from view.
Sightings and reports of Bigfoot tend to originate mostly in North America and Canada so the fact that this footage is from Norway makes it somewhat unusual, however this point is likely to be irrelevant given that the video is almost certainly a hoax featuring someone wearing an ape suit.
"I thought it was a bear," the uploader wrote. "I was hunting in the Woods. But then I saw this thing."
Source: Metro | Comments (65)
Tags: Bigfoot, Norway