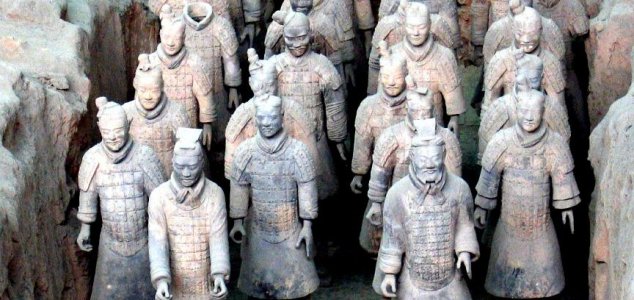 Several of the remarkable terracotta soldiers.

Image Credit: CC BY-SA 3.0 Schubbay
A new 3D imaging technique could finally determine whether the warriors were based on real soldiers.
Discovered in 1974 by farmers in China's Shaanxi province, the army of 8,000 immaculately crafted ancient warriors is considered to be one of the most important archaeological finds in history.
Each of the warriors was thought to have been placed in the tomb of Qin Shi Huang, China's first emperor, to protect him in the afterlife after his death in 210 BC. Among them are 130 chariots, 520 horses and 150 cavalry.
One of the most enduring mysteries about the terracotta army is whether the soldiers were all created from a single template or whether each one had been based on an individual soldier. Scientists are hoping to finally answer this question thanks to a new 3D imaging technique that is enabling them to analyze and compare the figures in unprecedented detail.
While the results are not yet conclusive, all the evidence so far points to the likelihood that each of the terracotta warriors was indeed modeled on a unique individual from Qin Shi Huang's army. If this turns out to be the case then the implications in terms of the additional time and effort that must have gone in to creating the spectacle are truly staggering.
Source: News.com.au | Comments (16)
Tags: Terracotta Army, China