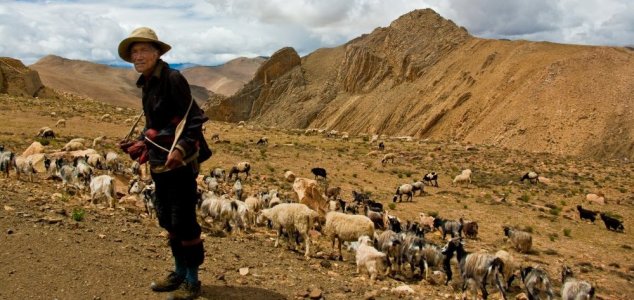 A farmer tends to his goats in the mountains.

Image Credit: CC BY-SA 3.0 Antoine Taveneaux
Tibetans are believed to have obtained their resilience to high altitudes from the Denisovan people.
Unacclimatized visitors to the high altitude Tibetan plateau tend to experience a host of altitude sickness related symptoms within a very short time, but for the local people who live there this otherwise inhospitable environment seems to pose little difficulty.
The origins of the adaptations that enable the Tibetans to thrive in the mountainous regions of their homeland are not entirely understood, but now a new study has revealed that these traits may have been inherited long ago from an extinct species of human.
Scientists believe that they have identified a distinct genetic connection between the modern people of Tibet and the extinct Denisovan people who had themselves only recently been discovered. The high altitude genes of the modern Tibetans are likely to have been passed down from the Denisovans following inter-species relationships in the distant past.
The find represents the first time that a gene from an extinct human species has been conclusively determined to have enabled modern humans to adapt to a hostile environment.
Source: LA Times | Comments (11)
Tags: Tibet, Denisovan