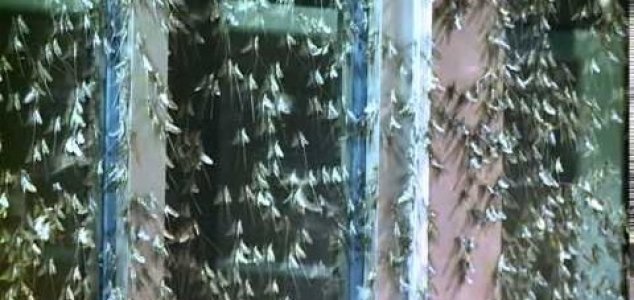 The insects were everywhere.

Image Credit: YouTube / WKBT TV
The air was teeming with the insects following a mass hatching from the nearby Mississippi River.
Locals found themselves inundated with swarms of the tiny insects which clung to walls, pavements and pretty much everything else.
Although the larval form of the mayfly can live in the water for several years, once it emerges the adult lives for only 24 hours. During this time its only purpose is to mate and then lay eggs before it dies, paving the way for the next wave of flies to do the same once they are ready to emerge in the future.
While generally harmless to humans the flies can prove to be a problem when they swarm along roads, potentially causing accidents. Some buildings can also end up crawling with so many of the insects that people are unable to gain access.
This year the National Weather Service has reported that there have been so many mayflies in the air that the swarms have been picked up on their radar system.
Source: Smithsonian Magazine | Comments (15)
Tags: Mayflies, Invasion