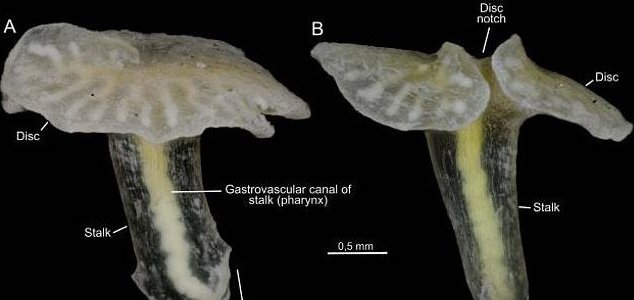 The organisms are rather unique.

Image Credit: CC BY 4.0 Public Library of Science (PLoS)
A bizarre and unclassifiable type of mushroom-shaped sea creature has been identified by researchers.
The peculiar organisms were dredged up from a depth of between 400 and 1000 meters off southeast Australia's continental slope.
Named Dendrogramma, the creatures seem to consist of almost nothing but an outer skin and a layer of strange jelly-like material.
Two different species were found in total however neither seem to fit in to any group of organisms currently known to science.
"Two species are recognised and current evidence suggest that they represent an early branch on the tree of life, with similarities to the 600 million-year-old extinct Ediacara fauna," said Dr Jorgen Oleson from the University of Copenhagen.
Researchers are now attempting to locate further examples of the creatures for further study.
Source: News.com.au | Comments (20)
Tags: Australia, Mushroom