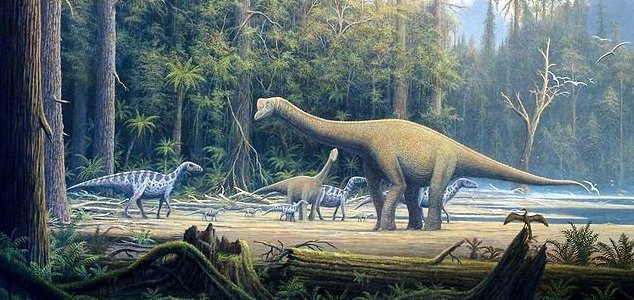 The dinosaur would have dwarfed even the largest predators.

Image Credit: CC BY-SA 2.5 Gerhard Boeggemann
The enormous prehistoric reptile was so massive that it weighed the same as seven Tyrannosaurus rex.
Known as Dreadnoughtus schrani, which means "fear nothing", the huge dinosaur is the latest entry in the supermassive group of sauropod dinosaurs known as the titanosaurs.
With its gigantic neck and tail the species is believed to have measured at least 85ft in length and would have weighed 65 tons - the same as 12 elephants. The skeleton, which was unearthed in southern Patagonia, is the most complete of its type ever found.
"Every day is about taking in enough calories to nourish this house-sized body," said lead author Kenneth Lacovara. "I imagine their day consists largely of standing in one place."
"You have this 37-foot-long neck balanced by a 30-foot-long tail in the back. Without moving your legs, you have access to a giant feeding envelope of trees and fern leaves."
The species is thought to have lived approximately 77 million years ago and is a contendor for the largest and heaviest land animal to ever walk the face of the Earth.
Source: Discovery News | Comments (19)
Tags: Dinosaur