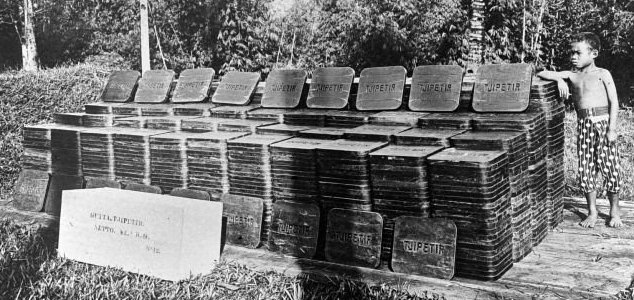 The Tjipetir blocks piled up at a plantation in Indonesia.

Image Credit: CC BY-SA 3.0 Tropenmuseum
Strange rectangular rubber-like blocks have been washing up on European shores for almost 100 years.
When Tracey Williams came across one of the blocks while walking her dog along a beach in Cornwall her initial reaction was one of minor curiosity, but when she decided to find out how the object had come to be there her investigation would end up leading her on a trail that spanned the better part of a century.
The blocks themselves, which are stamped with the word 'Tjipetir', appeared to have originated on an Indonesian plantation in West Java dating back to the late 19th or early 20th century.
Their appearance on beaches across the UK and Europe however represented something of a mystery. Williams was able to use Facebook to chart identical discoveries all along the east coast of the British Isles as well as in Spain, France, Denmark and even the Shetland Islands.
As it turns out the blocks had been aboard the Miyazaki Maru, an ocean liner that sunk in 1917 while on a voyage to London after it was attacked by a German submarine.
The rubber blocks ended up scattered in the ocean where they were carried by the tides and currents for decades. Some are thought to have circumnavigated the globe several times.
"They're still in good condition after all these years, which is unusual," said Oceanographer Curtis Ebbesmeyer. "They're probably one of the great pieces of flotsam that people may be finding 100 years from now."
Source: BBC News | Comments (7)
Tags: Tjipetir, Blocks