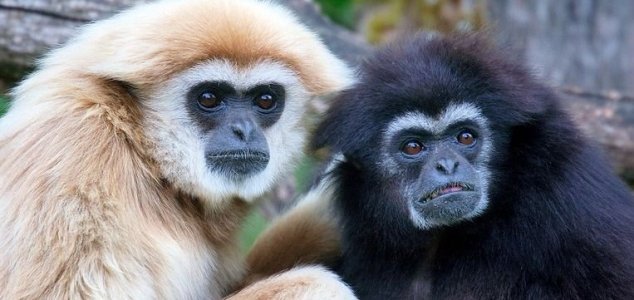 The vocalizations of gibbons are surprisingly familiar.

Image Credit: CC BY-SA 3.0 Matthias Kabel
Gibbons may communicate in a way that is similar to how early humans spoke millions of years ago.
From the clicks of bottlenose dolphins to the low-frequency rumblings of elephants, scientists have long struggled to interpret the myriad of vocalizations uttered throughout the animal kingdom.
While in some cases it is possible to determine what a particular sound means, such as when a dog barks or a cat purrs, there are few voices outside of our own species that sound anything remotely comparable to actual human language.
Now however researchers investigating the vocalizations of gibbons have discovered that these small primates appear to use words and linguistic structures that mirror those used by our own species.
"Language is a human affair," said study co-author Dr. Angela Dassow. "It transfers conceptual knowledge from speaker to listener and has extraordinarily generalisable descriptive powers."
"We reevaluate this distinction in the context of vocalisations of white-handed gibbons, demonstrating previously unrecognised complexity and structure in their vocalization."
As it turns out, today's gibbons communicate with sounds that are very similar to those that our distant ancestors would have used more than 1.8 million years ago.
"The bottom line would tentatively seem to be that language is far more universal than linguists believe," said study co-author Michael Coen.
Source: Independent | Comments (11)
Tags: Human, Speech, Gibbons