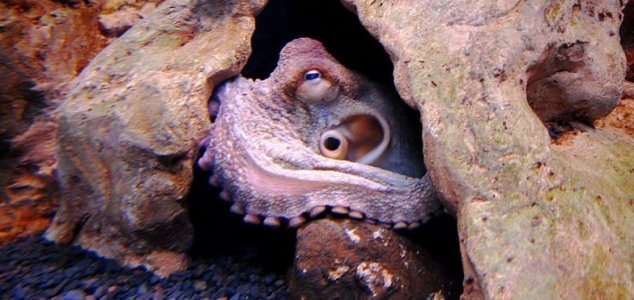 Was Burke attacked and eaten by a big octopus ?

Image Credit: CC BY-SA 3.0 Eistreter
Richard Shaw Burke had disappeared without a trace until scraps of his shirt turned up inside an octopus.
Burke had been out fishing for crayfish in the apparently calm waters along the west coast of Tasmania when a sudden wave knocked him off his boat and swept him out to sea.
A search party was soon organized and while rescuers spent several days scouring the coastline for any sign of him he was eventually declared lost. No trace of him could be found anywhere and his body was never recovered.
Fast forward 12 months and two young men had been fishing in the same region when they caught something large in their cray nets. Initially believing it to be an eel they were astonished to discover that what they'd caught was actually a huge octopus, the largest ever seen in the area.
Measuring over 12ft long and 3ft across, the enormous cephalopod was later cut open and a large piece of cloth discovered inside of its stomach. The cloth turned out to be a perfect match for the shirt that Richard Shaw Burke had been wearing when he disappeared 12 months earlier.
Could it be that the unfortunate fisherman come to his untimely end in the tentacles of this creature of the deep or did the octopus find and consume his body after he had drowned ?
To this day the mystery of exactly what happened to him remains unsolved.
Source: Weird Australia | Comments (37)
Tags: Giant Octopus, Australia