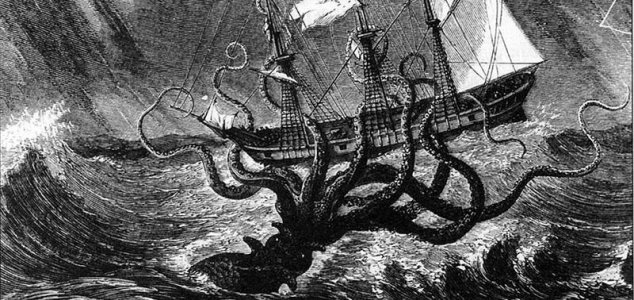 We're pretty sure this didn't actually happen.

Image Credit: Mary Evans Picture Library/Alamy
Remember that time a giant octopus dragged a ferry to its doom off Staten Island ? No, neither do we.
Created by artist Joseph Reginella, the cast-bronze sculpture, which is apparently intended to honor the people who died when a massive cephalopod attacked a steam ferry in 1963, can be found in Battery Park at the southern tip of Manhattan alongside a number of war memorials.
Far from being a genuine mark of remembrance however, this 250lb monument is actually part of an elaborate hoax which also includes a fake website, a fake TV documentary and even fake flyers promoting the Staten Island Ferry Disaster Memorial Museum (which doesn't actually exist either.)
According to Reginella, the idea for the hoax, which he describes as "a multimedia art project and social experience," came to him when he was accompanying his nephew on the ferry one day.
"He was asking me all kinds of crazy questions, like if the waters were shark-infested," he said. "I said 'No, but you know what did happen in the 60s? One of these boats got pulled down by a giant octopus.' The story just rolled off the top of my head."
The faux monument has so far managed to confuse more than a few people and has even succeeded in leading some to believe that the giant octopus attack actually took place.
"It's definitely an experience when you see people who don't know about it," said Reginella. "They get this strange look on their face, they stare out at the water and walk away."
Source: The Guardian | Comments (7)
Tags: Octopus, New York