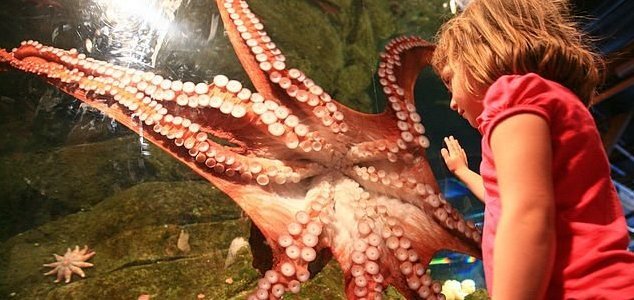 The giant Pacific Octopus is thought to be quite intelligent.

Image Credit: CC BY 2.0 Laszlo Ilyes
Researchers have determined that the giant Pacific octopus is not one, but two genetically distinct species.
Measuring up to 16ft in length and weighing in at as much as 156lb, it is easy to see how the giant Pacific octopus could have inspired stories of gargantuan multi-tentacled sea monsters.
The idea that there may in fact be two distinct species of giant octopus rather than one first arose in 2012 when researchers identified a member of the Enteroctopus family with unique DNA.
The find was later confirmed by Alaska Pacific University researchers David Scheel and Nate Hollenbeck who collected a total of 21 octopuses from shrimp traps off the coast of Alaska.
They found that seven of the specimens possessed unique features - such as a frilled mantle and a thin papillae located over each of their eyes - that set them apart as a different species.
"Presumably, people have been catching these octopuses for years and no one ever noticed," said Scheel.
The new species has been tentatively dubbed the 'frilled giant Pacific octopus'.
Exactly how many of them are out there however remains unclear.
Source: Inquisitr.com | Comments (2)
Tags: Octopus