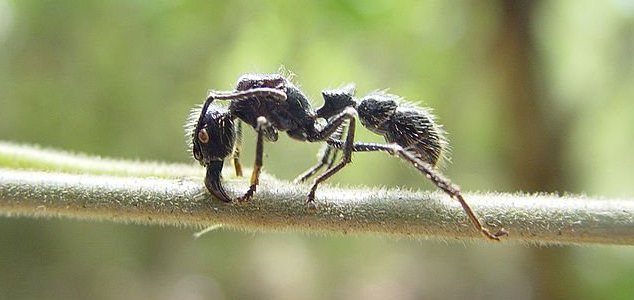 The bullet ant is native to South and Central America.

Image Credit: CC BY 2.0 Erin Mills
The South American insect measures 2.5cm long and delivers an agonizing bite that hurts for up to a day.
Entomologist Dr Justin Schmidt is no stranger to the pain that can be inflicted by insects having been stung and bitten over 1,000 times over the years in his efforts to catalogue the relative discomfort that can be dished out by each individual species.
Each bite or sting is assigned a pain level from one to four with one being the least uncomfortable and four being so bad that the pain is almost unimaginable. The bullet ant, which has the world's most painful sting, fits neatly in to the latter category.
Describing the ant's sting as "pure, intense, brilliant pain," Dr Schmidt likened the experience to "walking over flaming charcoal with a three inch nail embedded in your heel."
All level four stings and bites are in fact described as "pain so immediate and intense that it shuts down all illusions of life as normal. Imagine sticking a finger in a 240 volt electrical socket."
The tarantula hawk wasp, which feeds on huge spiders, can also dish out pain of a similar intensity.
Source: BBC | Comments (21)
Tags: Bullet Ant, Stings, Painful