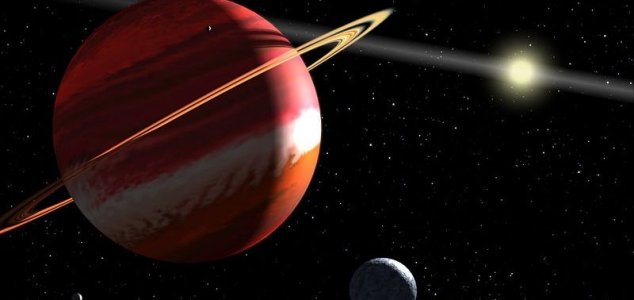 The newly discovered world is located around 96 light years away.

Image Credit: NASA
Astronomers have identified the smallest ever exoplanet to be directly photographed through a telescope.
Known as 51 Eridani b, the methane-shrouded gas giant is located 96 light years away and orbits around an extremely young star that is only 20 million years old - a veritable youngster when compared to our own sun which is currently around 4.6 billion years old.
Unlike most extrasolar planets discovered to date however Eridani b was found using the Gemini Planet Imager on the Gemini South telescope in Chile, an instrument that can locate and analyze extrasolar planets by looking for the light coming directly from the planets themselves.
The technique is in stark contrast to that used by the Kepler Space Telescope which attempts to locate planets by detecting a loss of starlight when a world passes in front of its star.
"To detect planets, Kepler sees their shadow," said study lead author Bruce Macintosh. "The Gemini Planet Imager instead sees their glow, which we refer to as direct imaging."
The discovery of this new Jupiter-like world in orbit around such a young star could help astronomers learn more about how the planets in our own solar system originally formed.
Direct imaging of a planet also makes it possible to determine its chemical composition - something that could one day help scientists discover a world not entirely dissimilar to our own.
Source: CBS News | Comments (4)
Similar stories based on this topic:
Tags: Extrasolar Planet, Exoplanet