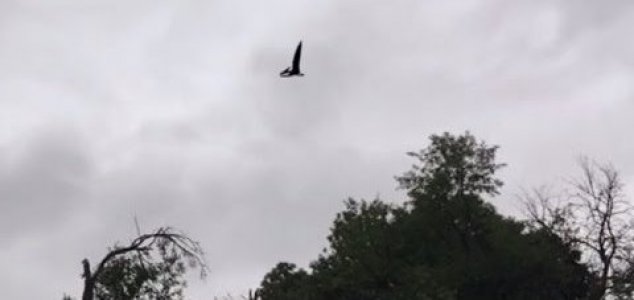 The 'pterosaur' can be seen soaring over an Idaho neighborhood.

Image Credit: YouTube / Rumble Viral
A recently released video claims to show what looks like a dinosaur flying over the United States.
The controversial footage, which was allegedly recorded over Boise in Idaho by a perplexed onlooker, captures the moment the prehistoric flying reptile was spotted over the area.
Sightings of large winged creatures have actually been reported several times over the last few decades with legends of the 'Thunderbird' still alive and well in Native American folklore.
Famous cases include that of two cowboys who in 1890 allegedly killed a gigantic bird-like creature in Arizona which had smooth skin and a face like that of an alligator. Cryptozoologist Loren Coleman has also written extensively about a series of Thunderbird sightings that occurred in the 1940s.
There was even an incident in 1977 in which three young boys in Lawndale, Illinois were pursued by two large birds. As they tried to escape, one of the boys was allegedly picked up by one of the creatures and carried over a short distance before being dropped again.
As for the new video - while it certainly looks impressive, critics have argued that it could very easily be a computer-generated hoax and very little is known about the background or circumstances.
The chances of it being an actual pterosaur are remote to say the least.
Source: Inquisitr.com | Comments (70)
Tags: Pterodactyl, Dinosaur