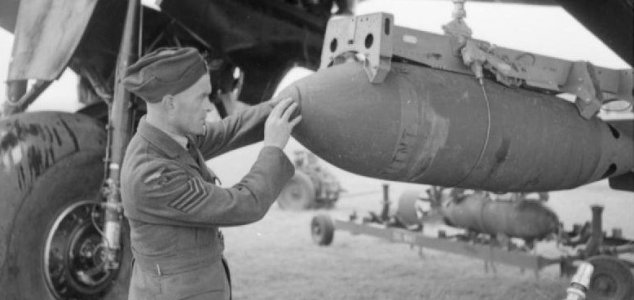 Unexploded bombs from WWII can still pose a risk of serious injury.

Image Credit: PD - Ministry of Information
A careers adviser from Warwickshire in England used the old WWII shell to hold flowers for 30 years.
45-year-old Kathryn Rawlins had originally discovered the shell buried in the playing fields at her school when she was 15 years old and, assuming it to be safe, took it home to use as a vase.
It wasn't until she watched a World War One documentary several decades later that she started to realize that her long-held ornament might not be quite as harmless as it had first appeared.
Concerned for her safety, Rawlins called the police and learned to her horror that the innocuous looking relic was in fact an unexploded bombshell that could have gone off at any time.
"The police said that the shell had the potential to have killed anybody that was within about 20 metres of it and could well have taken the house down," she said.
"I have had the shell on the mantelpiece for three decades now and even took it to university. I used to stick plastic roses out of the top of it when I was dancing around to Madonna."
Fortunately however nobody was hurt and the shell, which was taken away and rendered safe by bomb disposal experts at the MoD, is now back on the mantelpiece holding flowers once again.
Source: Telegraph | Comments (11)
Similar stories based on this topic:
Tags: WWII, Bomb