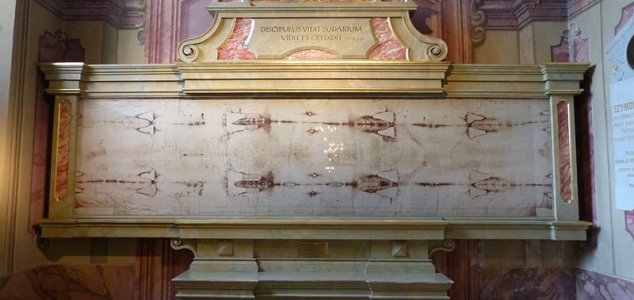 The shroud is believed by many to be the burial cloth of Jesus.

Image Credit: CC 3.0 Mogadir
An analysis of dust particles retrieved from the shroud has uncovered plant DNA from all over the world.
The mysterious Turin Shroud, which is believed by many to be the actual burial cloth of Jesus himself, has long been the subject of intense scrutiny, controversy and debate.
Now in a renewed bid to better understand the shroud's history, scientists have been conducting a DNA analysis on particles of dust and pollen collected from its surface in an attempt to determine where the relic might have been over the last two thousand years.
The results were somewhat surprising and suggested that the shroud had been all over the world.
"Among the plant species of the New World, black locust, a tree of the family Fabaceae native to Appalachia in the Eastern United States, is notable," said Dr Gianni Barcaccia.
"In addition, we identified crop species largely grown by farmers and common in many agriculture systems of the Old World, including chicory, common hop, cucumber and grapevine."
The researchers believe that the shroud may have been originally produced in India before making its way to several countries including Italy, Turkey and even the Americas.
It is also possible that the samples of pollen found on it may have come from visitors who had traveled long distances to view the relic in person.
Source: Yahoo! News | Comments (54)
Tags: Turin Shroud, DNA