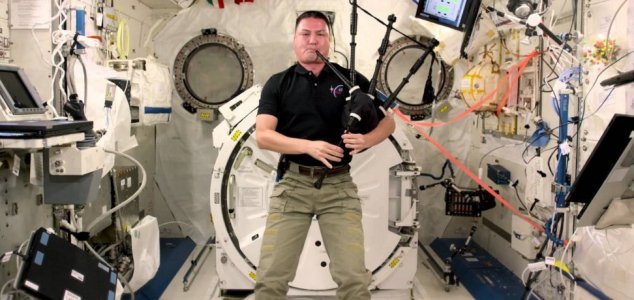 Lindgren managed to play the bagpipes with ease.

Image Credit: YouTube / NASA Johnson
Astronaut Kjell Lindgren recorded a video of himself playing the instrument as a tribute to Victor Hurst.
In a scene not dissimilar to the ending of 'Star Trek II: The Wrath of Khan', the sound of 'Amazing Grace' being played on the bagpipes drifted through the International Space Station this week in tribute to research scientist and instructor Victor Hurst who passed away last month.
The instrument, which had never been played in space before, was built out of plastic by a company in Scotland to make it lighter and easier to operate.
"The thing about bagpipes is that they're very difficult to play at high altitude because the air is that bit thinner," said MacCallum Bagpipes director Kenny MacLeod.
"They're quite hard to blow so he's done well."
Source: 9news.com.au | Comments (21)
Tags: Bagpipes, ISS