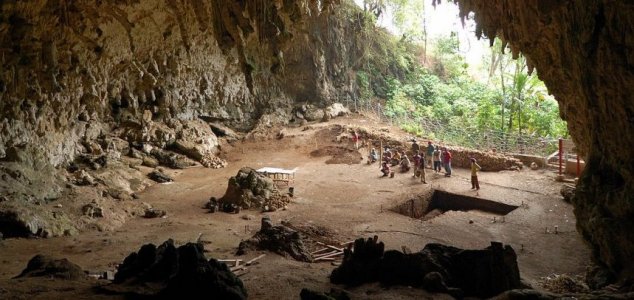 The Indonesian cave where the specimens were found.

Image Credit: CC BY-SA 2.0 Rosino / Flickr
New research has indicated that 'hobbit' remains found inside a cave actually do belong to a new species.
Ever since the fossil remains of a small hominid were discovered inside a cave on the Indonesian island of Flores back in 2003, paleoanthropologists have struggled to determine whether the skeleton belonged to a new species or to a modern human suffering from a growth disorder.
Dating back 18,000 years and with a brain the size of a grapefruit, the unusual specimen was initially given the name
Homo floresiensis
in the belief that it was a genuinely new species of primate.
Since then however further studies have cast doubt on this assertion, instead suggesting that its abnormally small head and body are more likely to be the result of a rare medical condition.
Fast forward to the present day and now scientists believe that they may have finally cracked the mystery once and for all thanks to a new in-depth analysis of the specimen's teeth.
According to their findings, the hobbits possessed distinctly different teeth to modern humans with traits more akin to
Homo erectus
- the earliest confirmed ancestor of modern humans.
The researchers concluded that the ancestors of
Homo floresiensis
, having become restricted to living on isolated islands, underwent dramatic dwarfism which saw their bodies shrink from 5.4ft to 3.6ft and their brains from 52 cubic inches to only 26 cubic inches.
"For me, this work will turn the tide about the question of evolutionary origin of H. floresiensis," said study lead author Yousuke Kaifu of Japan's National Museum of Nature and Science in Tokyo.
Source: Live Science | Comments (13)
Tags: Hobbit, Homo floresiensis