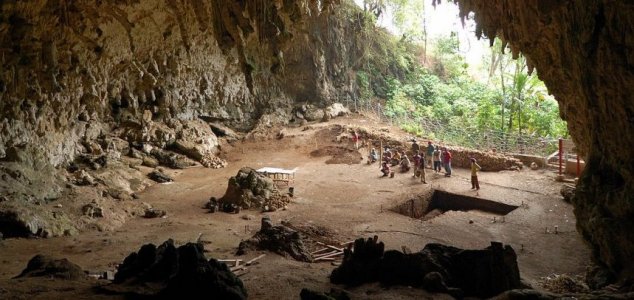 The cave in which Homo floresiensis was discovered.

Image Credit: CC BY-SA 2.0 Rosino / Flickr
Scientists have revealed that Homo floresiensis is actually one of the earliest known forms of human.
Evidence of the mysterious 'hobbits' of Flores, an island in Indonesia, was first unearthed in a cave back in 2003 - a discovery that would go on to become the topic of much controversy and debate.
One of the biggest questions surrounding the discovery was whether Homo floresiensis was an offshoot of Homo erectus or if it was actually something much older than that.
Now though, researchers in Australia have finally managed to put this debate to bed by revealing that the mysterious 'hobbits' were actually a relative of Homo habilis - a much earlier ancestor of modern humans that lived in Africa around 1.75 million years ago.
This makes Homo floresiensis one of the oldest forms of human ever discovered.
"The analyses show that on the family tree, Homo floresiensis was likely a sister species of Homo habilis," said Dr Debbie Argue. "It means these two shared a common ancestor."
"It's possible that Homo floresiensis evolved in Africa and migrated, or the common ancestor moved from Africa then evolved into Homo floresiensis somewhere."
Source: Independent | Comments (2)
Tags: Hobbit