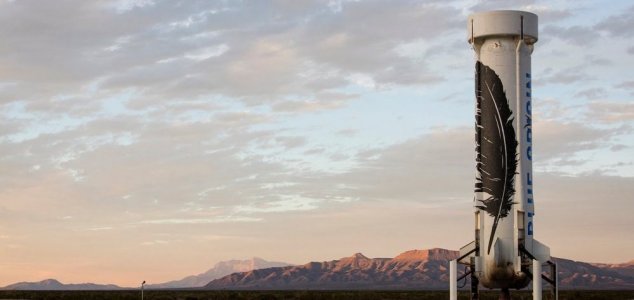 The world's first fully working reusable rocket.

Image Credit: YouTube / Blue Origin
Blue Origin has beaten SpaceX in the race to build a rocket that can launch and then return to the Earth.
The firm, which is owned by Amazon founder Jeff Bezos, made it in to the history books this week thanks to the successful launch of its
New Shepard
spacecraft and BE-3 rocket booster.
Unlike conventional rockets which are designed to only be used once, the BE-3 is capable of launching a payload in to space and then returning to the Earth to be used again in the future.
Monday's spectacular launch was undeniably impressive as the unique rocket, which fell to an altitude of around 1.5km after separating from the spacecraft, reignited its engines to slow its descent before coming in for a well-controlled landing back on terra firma.
Regarded as a significant technical triumph, the rocket's success means that SpaceX, which has been attempting to develop reusable rockets for years, has actually been beaten to the punch.
The availability of reusable rockets could also provide a significant boost to the private space sector where traditional rocket launches have often proven to be prohibitively expensive.
A video showing the successful launch and landing of the rocket, along with a concept for how the technology could enable manned spaceflight in the future, can be viewed below.
Source: Economist | Comments (26)
Tags: Blue Origin, Rocket