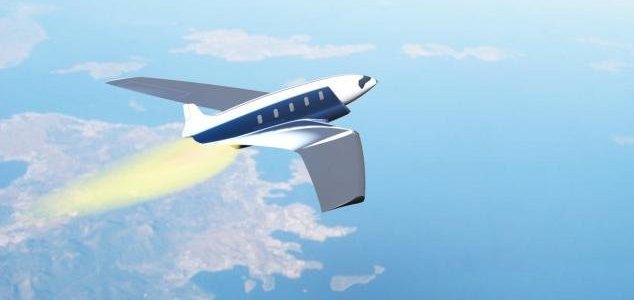 The scramjet would be capable of travelling at 16,000mph.

Image Credit: Imaginactive.org
The Antipode luxury business airplane will be able to travel from London to New York in 11 minutes.
The plane, which is the brainchild of Canadian industrial designer Charles Bombardier, will travel at 24 times the speed of sound - that's only slightly slower than the Space Shuttle's re-entry speed.
Its unusual design, which features a short body and angled wings, is quite unlike any other airplane out there and it even incorporates reusable rocket boosters and a built-in scramjet engine.
"I wanted to create an aircraft concept capable of reaching its antipode - or diametrical opposite - as fast as possible," said Bombardier during an interview with Forbes.
At 16,000 miles per hour the ridiculously fast plane would be capable of travelling from New York to Sydney in just 30 minutes, however not even NASA has been able to develop a stable enough engine for such a vehicle and the g-forces involved would be crippling.
It remains to be seen whether the ambitious design will ever make it off the drawing board.
Source: New York Daily News | Comments (38)
Tags: Antipode, Hypersonic