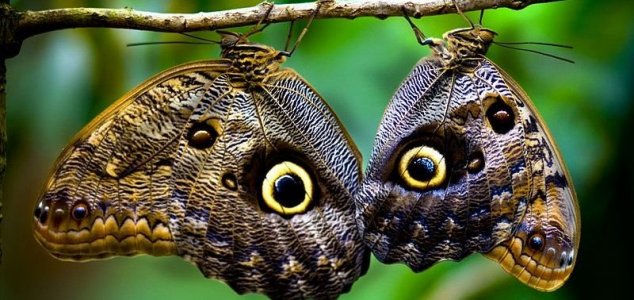 Lacewings had eye-like wing patterns similar to modern butterflies.

Image Credit: CC BY-SA 2.0 Edwin Dalorzo
A type of insect that looked very much like a modern butterfly was common during the Jurassic period.
Known as Kalligrammatid lacewings, these prehistoric flying insects were remarkably similar to their modern counterparts and even possessed familiar wing markings still seen in butterflies today.
The discovery was made thanks to two well-preserved fossils recently unearthed at a dig site in China which, for the first time, have made it possible for scientists to fully appreciate the extent to which these prehistoric winged insects resembled modern butterflies.
"Poor preservation of lacewing fossils had always stymied attempts to conduct a detailed morphological and ecological examination of the kalligrammatid," said scientist David Dilcher.
"Upon examining these new fossils, however, we've unraveled a surprisingly wide array of physical and ecological similarities between the fossil species and modern butterflies, which shared a common ancestor 320 million years ago."
Scientists now believe that lacewings, just like their modern counterparts, would have sustained themselves by visiting plants and lapping up the nectar using their long tongues.
There is even evidence to suggest that, like today's insects, lacewings would have helped to maintain the reproductive cycle by transporting pollen from one plant to another.
"Here, we've got coevolution of plants with these animals due to their feeding behavior, and we've got coevolution of the lacewings and their predators," said Dilcher.
"It's building a web of life that is more and more complex."
Source: Discovery News | Comments (4)
Tags: Jurassic, Butterfly