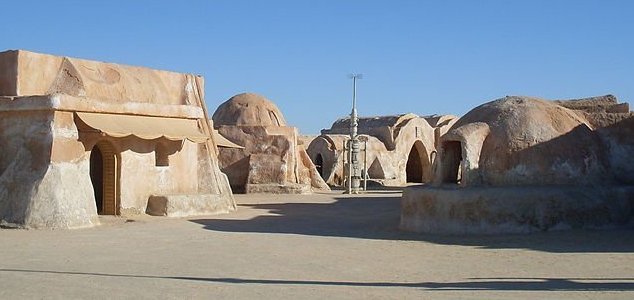 A moisture vaporator on the set of the original Star Wars.

Image Credit: PD - Rais67
Engineers have developed a new material that is capable of turning airborne water vapor in to a liquid.
Inspired by the Namib desert beetle which survives in its arid environment by condensing water droplets on its own back, a team of researchers led by mechanical engineer Kyoo-Chul Park have succeeded in developing a remarkable new material that is capable of doing much the same thing.
The material, which like the beetle's shell is covered in a series of small bumps, is ten times faster at turning water vapor in to a liquid than any other material known to science.
In addition to being useful in any machine with a heat exchanger that relies on water collection for heat transfer, the new material could also make it possible to collect water in the desert using dedicated moisture farms similar to those used on Tatooine in the original
Star Wars
.
"I'm a big fan of
Star Wars
, and so you could imagine this kind of condensation system being used simply for water collection on a moisture farm, such as the one on Tatooine where Luke Skywalker was raised," said Park. "The basic idea is already here: harvesting liquid water from air-bound vapor in an extremely arid region."
Source: Popular Mechanics | Comments (7)
Similar stories based on this topic:
Tags: Water