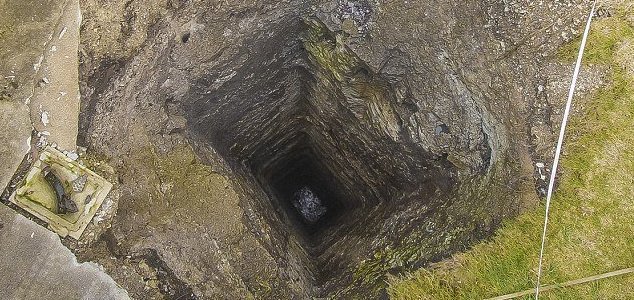 It is unclear how deep the water at the bottom of the hole is.

Image Credit: YouTube / Mark Thomas
The deadly drop opened up in the back garden of an unoccupied bungalow while it was being surveyed.
Estimated to be at least 300ft deep, the huge hole was once part of an 18th century tin mine and opened up unexpectedly while surveyors were checking the property for ground stability.
"There was nothing there at all that shows there was a shaft," said Stuart Dann of
Mining Eye
.
"Both houses nearby are empty, which is a very good job. It is easy to see the woods, fields and houses and assume nothing was there. If you go back to 1750, the area was completely different."
Local man Mark Thomas, who managed to capture some impressive aerial video footage of the mineshaft using a remote-controlled drone (below), described the hole as "truly massive."
"It's approximately 300 feet to water and god knows how deep from there," he said.
Source: BT.com | Comments (15)
Tags: Mineshaft, Hole