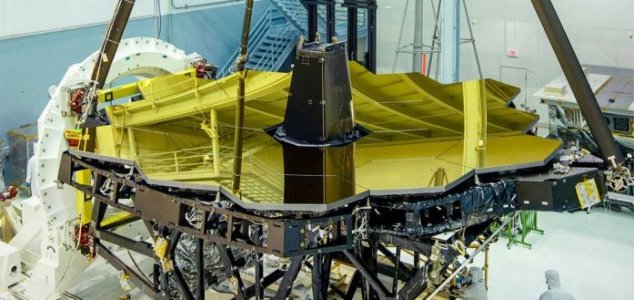 NASA released photographs of the telescope being constructed.

Image Credit: NASA
The impressive gold-coated mirror of the James Webb Space Telescope has been revealed in all its glory.
The successor to NASA's successful Hubble Space Telescope, the James Webb will be the most powerful space telescope in the world when it launches in around two years' time.
With an impressive 6.5-meter gold-coated segmented mirror the new telescope is much larger than Hubble ( which has only a 2.4-meter mirror ) and will see in infrared rather than in visible light which means it will be able to peer much deeper in to the cosmos than its predecessor.
The mirror has been built in 18 separate segments which will deploy once the telescope is in orbit.
"Scientists from around the world will use this unique observatory to capture images and spectra of not only the first galaxies to appear in the early universe over 13.5 billion years ago, but also the full range of astronomical sources such as star forming nebulae, exoplanets, and even moons and planets within our own Solar System," NASA wrote on its website.
Source: Science Alert | Comments (16)
Tags: James Webb Space Telescope