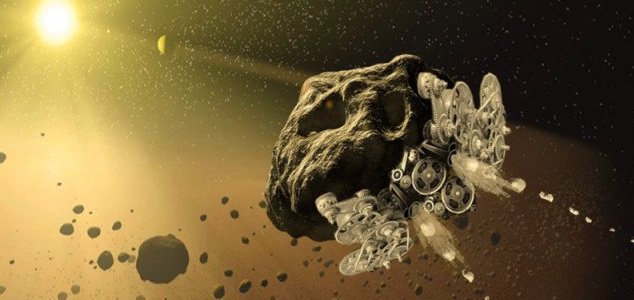 A concept image of a 3D-printed propulsion system on an asteroid.

Image Credit: Made In Space
NASA is funding a new concept that could equip small asteroids with 3D-printed propulsion systems.
The asteroids which pass us by on a regular basis might not seem particularly valuable, but inside many of these spacefaring rocks there lies a wealth of gold, platinum and other minerals that could actually make space mining a commercially viable venture.
At the moment getting close enough to an asteroid to be able to mine anything from it remains a bit of a challenge, but now 'Made In Space', a 3D printing company based in California, is working with NASA to develop a unique solution which involves bringing these objects closer to home.
Known as RAMA (Reconstituting Asteroids into Mechanical Automata), the method involves sending a robotic spacecraft to an asteroid where it would mine a small amount of its resources and use them to 3D-print simple propulsion and navigation systems.
The probe would then use these systems to physically move the asteroid to a more accessible location before detaching and heading off to the next one to repeat the process.
The idea was funded as part of NASA's Innovative Advanced Concepts program which awards money to projects with the potential to transform the future of spaceflight.
While it might sound far-fetched, it is certainly not outside the realms of possibility that once asteroid mining eventually does take off, automated systems like this one could play a crucial role in providing an ongoing supply of accessible asteroids to orbiting mining facilities.
Source: Popular Science | Comments (16)
Tags: Asteroid Mining