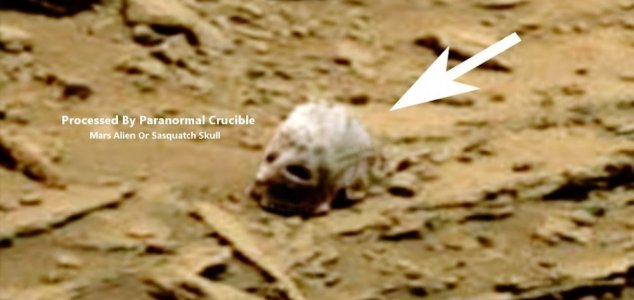 The 'skull' is little more than a rock enhanced in Photoshop.

Image Credit: YouTube / Paranormal Crucible
The alleged skeletal artifact appeared following an 'enhancement' of an image from the Curiosity rover.
The latest in a long line of strange objects spotted on the surface of the Red Planet by eagle-eyed anomaly hunters, this 'Sasquatch skull', which was picked up in a recent photograph sent back by NASA's Mars rover, has spent far too long being manipulated in Photoshop to be taken seriously.
The skull was presented recently in a new video by YouTube channel
Paranormal Crucible
which has become somewhat infamous for spotting dubious objects on the surface of Mars.
Described by the channel as "obviously alien in nature", the object's appearance is a classic case of pareidolia - the brain's natural tendency to see meaningful shapes in abstract patterns.
The photographic enhancements have also helped to make it appear more skull-like.
Despite being picked up by several mainstream news sites, the artifact, which has clocked up over 187,000 views on YouTube, is almost certainly nothing more than a random piece of rock.
Source: CNET.com | Comments (28)
Tags: Mars, Curiosity