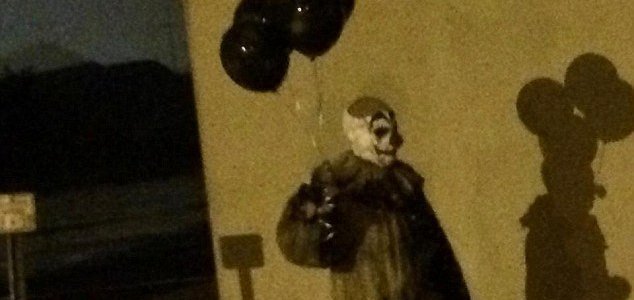 Who is the mystery man in the clown costume ?

Image Credit: Facebook / Gags - The Green Bay Clown
An individual dressed up as a clown has been seen hanging around in the early hours of the morning.
The mysterious character, who has come to be known as 'Gags', is typically seen wandering the streets with a face full of makeup, a shabby clown costume and a handful of black balloons.
Sightings of him have become so common in fact that a Facebook page entitled 'Gags - The Green Bay Clown' has been set up to provide witnesses with a place to upload their photographs.
No conclusive explanation for the phenomenon has yet been found however one commenter has claimed that the clown may have been part of a short horror film being shot in the area.
Sightings of strange clowns have actually been on the rise in recent years with multiple prominent cases occurring in France, England, Australia, New York and California.
The most recent, which took place at Carroll University in Waukesha, Wisconsin, involved a local teenager who had been dressing up as a clown in an effort to scare unsuspecting passers-by.
Source: wbay.com | Comments (9)
Tags: Green Bay, Clown