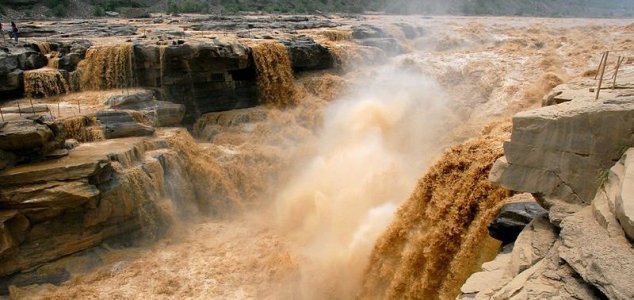 The river was once blocked by a landslide.

Image Credit: CC BY-SA 3.0 Leruswing
The legendary story of how Emperor Yu tamed the raging floodwaters may actually have some truth to it.
Tales of great floods are relatively common in the ancient world, but while most of these are only loosely based on true events, one in particular looks like it may have actually taken place.
Legend tells of how the heroic Emperor Yu of China drove back the floodwaters of the Yellow River by dredging and redirecting all the tributaries - a monumental task that took decades to complete.
The story tells of how he was aided by a dragon which dug out vast channels in the ground and a large turtle which hauled tons of mud. Yu's success lead to the founding of China's Xia dynasty.
While the dragon and turtle were certainly rooted firmly in the realms of mythology, the flood itself may have some truth to it - that is at least according to scientists who recently revealed that they have discovered unusual sediment in the Jishi Gorge of the Yellow River.
The team believes that somewhere around 1,900BC a landslide dumped enough material in to the gorge to completely block the river. When this dam eventuallly burst it created a deluge of water which inundated the low-lying lands downstream with a devastating flood.
"The flood was about 300-500,000 cubic metres per second," said co-author Dr Darryl Granger from Purdue University. "That's roughly equivalent to the largest flood ever measured on the Amazon river; it's among the largest known floods to have happened on Earth during the past 10,000 years."
Whether Emperor Yu actually did drive back the floodwaters however remains a mystery.
Source: Live Science | Comments (6)
Tags: Emperor Yu, Flood, China