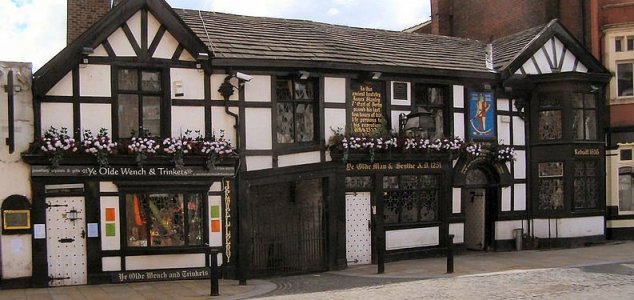 The pub has a long history of paranormal activity.

Image Credit: CC BY-SA 2.0 David Dixon
The owners of a historic pub in England have written to a Chinese artist who allegedly stole their ghost.
The bizarre dispute centers around Ye Olde Man & Scythe, a drinking establishment in Bolton, England which is said to be haunted by the ghost of James Stanley, the seventh earl of Derby, who was believed to have died after being beheaded just outside the building in 1651.
Reports of paranormal occurrences at the property had been going on for years, but now things seem to have gone rather quiet and the pub's owners are pinning the blame on Lu Pingyuan - a Chinese artist who maintains that he has actually caught the ghost and taken it with him.
Lu, who claims that the ghost agreed to be captured so that it could be featured in an exhibition, writes on his site that he took the spirit as "a symbolic act in reaction to the UK's colonialist past."
Now the pub's owner Richard Greenwood has written to the artist to ask for the ghost's return.
"I feel very strongly that James Stanley's ghost should remain in Bolton and at Ye Olde Man and Scythe to preserve the natural order of things," he wrote.
Alleged footage of the troublesome spirit, which was filmed back in 2014, can be viewed below.
Source: Huffington Post | Comments (16)
Tags: Ghost, Pub