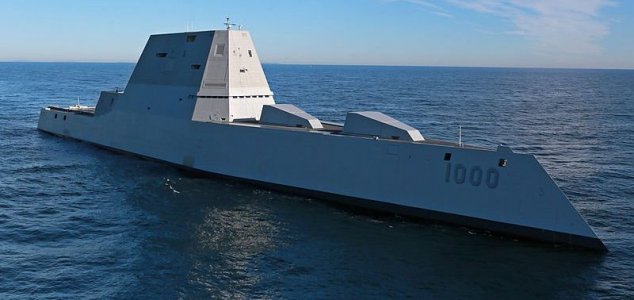 The ship certainly looks the part.

Image Credit: CC BY 2.0 US Navy / General Dynamics Bath Iron Works
The state-of-the-art ship has 'boldly' ventured out on the 50th anniversary of the Star Trek TV series.
The world's most advanced destroyer has finally set sail this week for Baltimore where it will be formally commissioned before heading to its home port of San Diego.
Brimming with sophisticated instruments and built to be virtually undetectable on the high seas, the highly advanced vessel has been compared to the fictional USS Enterprise in Star Trek - not only because of its futuristic appearance but also because it is commanded by Captain James Kirk.
On top of all that, the ship just happens to be heading out in time for Star Trek's 50th anniversary.
"Certainly I have been ribbed every now and then with someone saying, 'Yes, you're going where no man has gone before, on this class of ship,'" said Kirk.
The destroyer, which measures 610ft in length and features a peculiar angular design, is brimming with weaponry including a gun that fires rocket-powered shells over 63 nautical miles.
Its formal commissioning ceremony will be taking place next month.
Source: Popular Mechanics | Comments (16)
Tags: James Kirk, USS Zumwalt