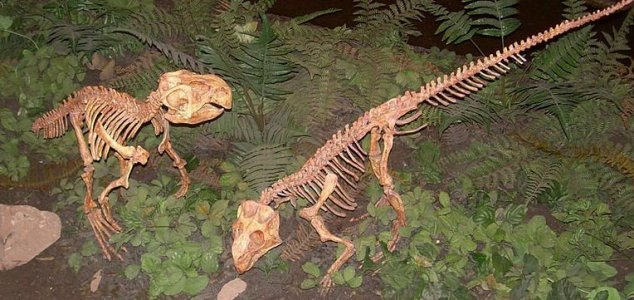 Psittacosaurus was no larger than a dog.

Image Credit: CC BY-SA 3.0 Ninjatacoshell
Scientists have determined the skin color of a small forest dinosaur by analyzing its fossilized skin.
At only 5ft in length, Psittacosaurus, a bipedal plant-eater which roamed the thick forests of Asia over 120 million years ago, might have seemed like a convenient food source for its carnivorous cousins, but now by analyzing samples of its fossilized skin, scientists have managed to identify several key ways in which this parrot-like dinosaur kept itself hidden from view.
Chief among its arsenal of defense mechanisms was its camouflage which, while mostly brown, featured a paler color on the creature's underside - a pattern known as countershading.
Its face was heavily pigmented while its hind legs were striped on the inside and spotted outside.
"Our model suggests it was super, super cute," said molecular paleobiologist Jakob Vinther.
Being around the size of a golden retriever, Psittacosaurus ( a name meaning parrot lizard ), was probably fiercely hunted by large Cretaceous Period predators such as Tyrannosaurus rex.
"It was eaten by a lot of other animals," said Vinther.
Source: Reuters | Comments (6)
Tags: Dinosaur, Psittacosaurus