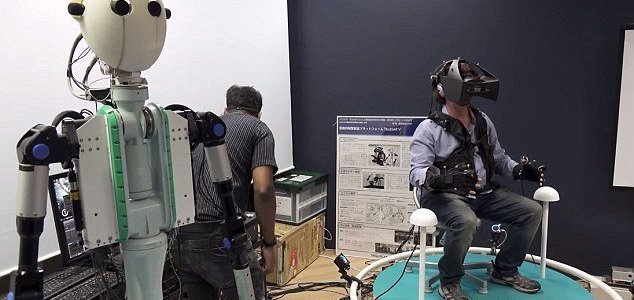 The teams will attempt to build an immersive human-robot interface.

Image Credit: YouTube / XPRIZE
The new contest will see teams vying to create a robot that can be 'inhabited' and controlled remotely.
This extraordinarily ambitious endeavour, which was recently selected as the top prize concept at the XPRIZE's inaugural Visioneers event in Los Angeles last week, aims to make it possible for a human operator to remotely inhabit and control a robotic 'avatar'.
Backed by Japan's largest airline ANA, the Avatar XPRIZE will give teams three years to develop the technologies needed for a human to control an avatar and use it to complete one basic task.
In 2022 the finalists will be invited to attend the Annual Avatar Games where they will be tasked with competing across five categories - caretaker, public speaker, disaster relief, tennis and musician.
It is hoped that the competition will lead to a world where, for example, a doctor could treat patients in remote, dangerous locations by controlling a robotic body from hundreds of miles away.
Another example would be an engineer remotely conducting repairs inside a nuclear power plant or carrying out maintenance work on a satellite without having to go in to space.
The potential applications for this technology are practically limitless.
"Humans, through an Avatar Platform, will be able to literally hear, see, talk, touch, feel, and move through the robotic body as if that robotic body were their own," the organizers said in a statement.
"You will feel a real presence as if your consciousness has actually moved into the robot. Anything you can do with your own body, you can do with a robotic body - and more."
Source: PRNewsWire.com | Comments (6)
Tags: XPRIZE, Robot, Avatar