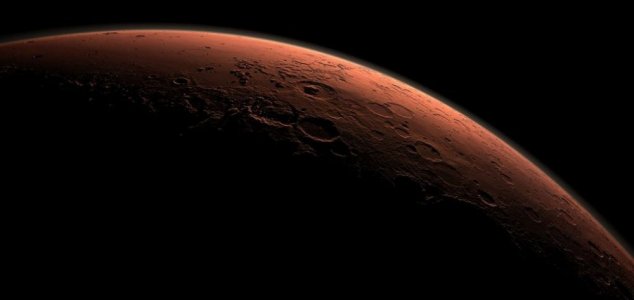 The ice deposit could prove a valuable resource for future colonists.

Image Credit: NASA/JPL-Caltech
NASA's Mars Reconnaissance Orbiter has identified an ice deposit with more water than Lake Superior.
Mars may no longer be covered in rivers and oceans, but below its surface there still lies a large amount of water locked away in ice deposits that could one day sustain a human population.
This latest ice deposit, which measures up to 170 metres thick in some places, was found using data acquired from over 600 scans of Utopia Planitia - a mid-latitude region of the planet.
"This deposit is probably more accessible than most water ice on Mars, because it is at a relatively low latitude and it lies in a flat, smooth area where landing a spacecraft would be easier than at some of the other areas with buried ice," said co-author Jack Holt from the University of Texas.
Scientists believe that the deposit formed several billion years ago as a result of snowfall which gradually built up an ice sheet mixed with dust from the surface.
In total it accounts for around 1% of all the water ice known to exist on Mars.
Source: CBC.ca | Comments (5)
Similar stories based on this topic:
Tags: Mars, Water