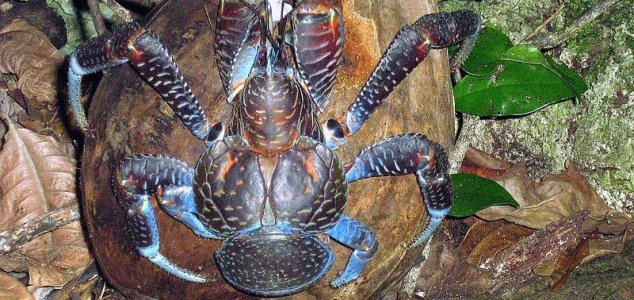 Coconut crabs can grow to enormous sizes.

Image Credit: CC BY 2.0 fearlessRich
The huge terrestrial crab species can exert a pinching force greater than any other crustacean on Earth.
Growing up to 3ft in length and living almost exclusively on land, the coconut crab is not only one of the largest living terrestrial arthropods, it is also the largest terrestrial invertebrate as well.
Its large size means that it also has a large appetite and this is where its super-strong pincers come in to play - enabling it to crack open coconuts and other foodstuffs with ease.
In a recent Japanese study, researchers decided to find out just how strong its claws really are.
The team discovered that a 9-pound coconut crab can exert 3,300 newtons of force - that's 4.5 times the amount of force that our own hands can exert when gripping as tightly as possible.
"We expected the force would be very strong," said study lead author Shin-ichiro Oka.
"But the actual powers exceeded our expectation and we were also surprised that their pinching force was approximately 90 times their body weight."
Source: Christian Science Monitor | Comments (1)
Tags: Coconut Crab