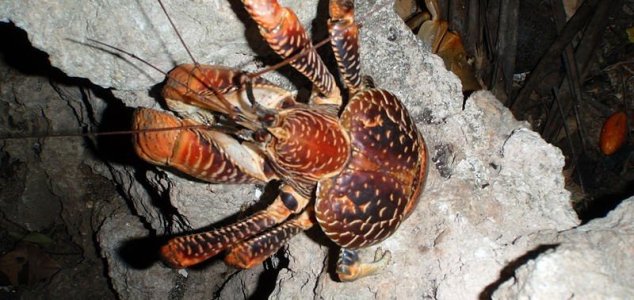 Coconut crabs are the world's largest land-living arthropods.

Image Credit: CC BY-SA 2.0 Olivier Lejade
Researchers have suggested that the aviator's remains were dragged off by coconut crabs after she died.
More than 82 years after Amelia Earhart disappeared over the Pacific Ocean during an attempt to circumnavigate the globe in her Lockheed Model 10 Electra, the question of what happened to her continues to remain one of the biggest unanswered mysteries of the modern age.
In recent years, clues have been found suggesting that Earhart's plane may have gone down somewhere in the remote Pacific atoll of Nikumaroro and that the aviator and her navigator Fred Noonan may have even survived for several days on a small island while awaiting rescue.
If that's true however, then why have their remains not been found there ?
Interestingly, 13 human bones were actually found on the island in 1940 by British colonial officer Gerard Gallagher, however these have sadly since been lost, making further study impossible.
Some researchers believe that the reason so few bones were found was because Earhart's remains had been devoured or dragged off by coconut crabs which can grow up to 3ft across.
If so, they argue, some of her bones could still be scattered (and possibly buried) across the island.
If Ballard can locate even one such bone, it could help to solve the mystery once and for all.
Source: Huffington Post | Comments (22)
Similar stories based on this topic:
Tags: Amelia Earhart