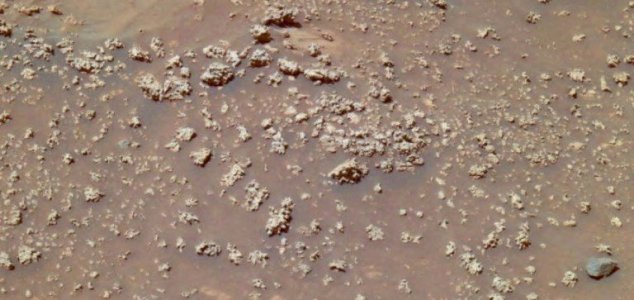 The cauliflower-like silica deposits were photographed in 2007.

Image Credit: NASA/JPL-Caltech
Geologists have managed to link silica deposits on Mars with biological processes occurring on the Earth.
The team from Arizona State University found intriguing similarities between silica deposits photographed by NASA's Spirit rover on Mars nine years ago and hot spring silica deposits in northern Chile which are known to have been at least partially formed through biological processes.
"The fact that microbes play a role in producing the distinctive silica structures at El Tatio raises the possibility that the Martian silica structures formed in a comparable manner," said Steve Ruff, one of the researchers involved in the study.
"In other words, with the help of organisms that were alive at the time."
While the research doesn't prove that the deposits on Mars are definitely biological, the patterns seen in Chile have been described as "among the most Mars-like of any silica deposits on Earth."
It will take a much more in-depth look at the deposits on Mars however to ever know for sure.
Source: Science Alert | Comments (5)
Similar stories based on this topic:
Tags: Mars, Spirit, Rover