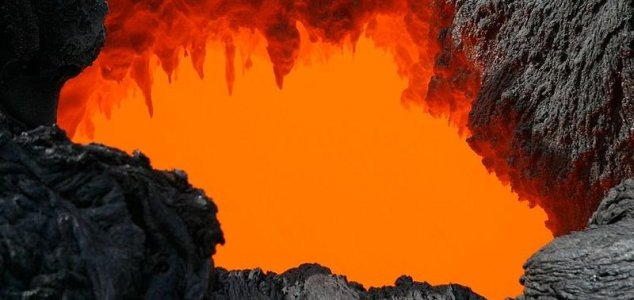 The extreme temperatures below the surface offer an excellent source of energy.

Image Credit: USGS
Geologists have been drilling a 5km borehole in to rocks measuring in excess of 500 degrees Celsius.
The Iceland Deep Drilling Project (IDDP), which is a collaboration between the Icelandic government and various science and industry groups, is aiming to create a new source of geothermal energy by drilling down in to a volcano on Iceland's Reykjanes peninsula.
The team's rig, which has been working non-stop since August, has already managed to drill down 4,500 meters and it is hoped it will reach the project's goal of 5,000 meters by the end of the year.
"We hope that this will open new doors for the geothermal industry globally to step into an era of more production," said CEO Asgeir Margeirsson.
"In this area at Reykjanes, we typically drill to 2km or 3km depth to harness the steam, to run power plants and produce clean, renewable electricity."
"We want to see if the resources go deeper than that."
At depths of 5km, the extreme heat and pressure is thought to produce what is known as "supercritical steam" which could produce up to 10 times as much energy as regular steam.
"It's getting hotter - and that's what we want," said chief geologist Gudmundur Omar Fridleifsson.
"We don't expect to drill into magma, but we are drilling into hot rock."
"And by hot rock, we mean 400 to 500C."
Source: BBC News | Comments (7)
Tags: Borehole, Iceland