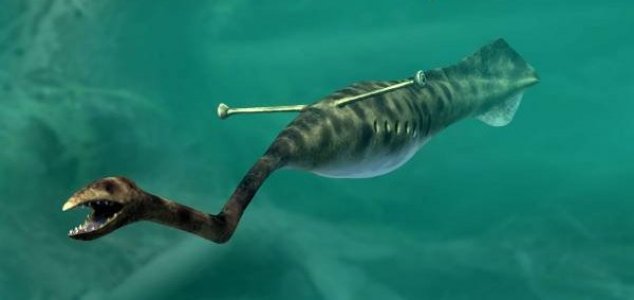 What type of creature could this possibly be ?

Image Credit: CC BY-SA 4.0 Nobu Tamura
A peculiar prehistoric discovery has left scientists scratching their heads for more than five decades.
Known as the Tully Monster after collector Francis Tully who originally discovered its remains back in 1958, this peculiar prehistoric denizen, which lived 307 million years ago in a coastal estuary in what is now northeastern Illinois, has remained notoriously difficult to classify for more than 50 years.
With a long torpedo-shaped body and two eyes set at either end of a horizontal bar attached to its face, the creature's bizarre appearance was unlike anything else known to science. It even had a long trunk-like snout protruding from its head with a teeth-filled claw attached to the end of it.
Back in March 2016, researchers thought that they had finally solved the mystery by categorising the creature as a type of lamprey, but now a group of paleobiologists led by Lauren Sallan of the University of Pennsylvania have come forward to claim that the previous study got it wrong.
"This animal doesn't fit easy classification because it's so weird," said Sallan. "It has these eyes that are on stalks and it has this pincer at the end of a long proboscis and there's even disagreement about which way is up. But the last thing that the Tully monster could be is a fish."
According to a new report, the original team's conclusions were wrong because they did not fully understand the way in which the fossil specimen had been preserved.
The creature also did not resemble the fossils of actual lampreys discovered in the same area.
"It's important to incorporate all lines of evidence when considering enigmatic fossils: anatomical, preservational and comparative," said study co-author Sam Giles.
"Applying that standard to the Tully monster argues strongly against a vertebrate identity."
Source: Phys.org | Comments (19)
Tags: Tully Monster