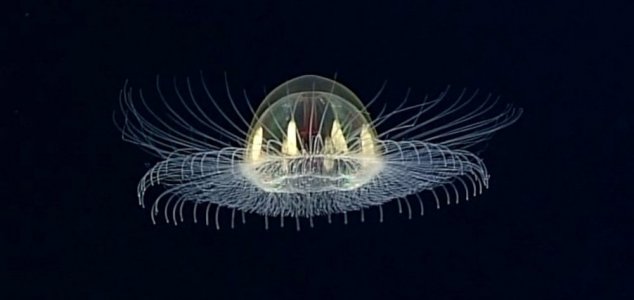 The jellyfish has an unearthly appearance.

Image Credit: NOAA / Okeanos Explorer / YouTube
Marine biologists have recorded footage of a remarkable jellyfish in the depths of the South Pacific.
The specimen was found by a team aboard the NOAA's Okeanos Explorer vessel during an expedition to document wildlife in the National Marine Sanctuary of American Samoa.
This protected region of the Pacific is well known for its extensive biological diversity and covers more than 35,000 square km of nearshore coral reef and open ocean.
According to researchers, this particular jellyfish species,
rhopalonematid trachymedusa
, is well known for its distinctive umbrella-like shape and translucent internal organs.
The reason it has two sets of tentacles pointing in opposite directions however remains unclear.
Source: Gizmodo | Comments (9)
Tags: Jellyfish